Italy
is home to some of the oldest wine-producing regions in the world, and Italian wines are known worldwide for their broad variety. Italy, closely followed by France, is the world's largest wine producer by volume. Its contribution is about 45-50 million hl per year, and represents about 1/3 of global production.
Italian wine
is exported around the world and is also extremely popular in Italy: Italians rank fifth on the world wine consumption list by volume with 42 litres per capita consumption.
Grapes
are grown in almost every region of the country and there are more than one million vineyards under cultivation.
Etruscans
and
Greek
settlers produced wine in Italy before the
Romans
started their own
vineyards
in the 2nd century B.C. Roman
grape-growing
and
winemaking
was prolific and well-organized, pioneering large-scale production and
storage
techniques like
barrel
-making
and
bottling
.
---
ABRUZZO
---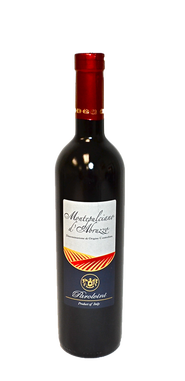 Name: Montepulciano d' Abruzzo DOC
Producer: Parolvini
Region: Provinces of Pescara, Chieti, L'Aquila and Teramo. Abruzzo
Country: Italy
Type: Red Blend
Varietal: Montepulciano 90%, Sangiovese 10%
ABV: 13%
Vintage:
Vinification: The grapes are of medium-late maturing. Are crushed, cleaned and subjected to prolonged maceration at controlled temperature. It cannot be sold before March 1 next year.
Tasting notes: Bodied wine rich and well structured. The color is intense ruby red with slight purple hues and trendy orange with aging. Vinous bouquet with intense, a little cherry. The taste is dry, full bodied, soft but with a slight astringency.
Pairings: Works particularly well with red meat and white, especially when roasted or grilled, aged cheeses and preserved meats. Serve at a temperature of 18-20°C about an hour before uncorking and possibly in a decanter

---
ALBA
---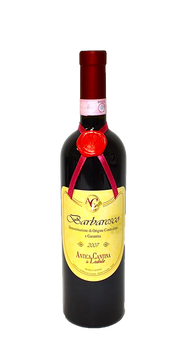 Name: Antica Cantina Barbaresco
Producer: Antica Cantina le Ladole
Region: Diano D'Alba
Country: Italy
Type: Red, Barbaresco
Varietal: Nebiolo
ABV: 14%
Vintage: 2007
Vinification: Large barrels 36 Months
Tasting Notes: The female counterpart to Barolo, as it ages the tannins soften, allowing the wine to transform into a tantalizing experience of depth, structure and perfume. The wines are often high in alcohol, acidity and tannins with complex flavors and aromas of dark fruits, truffles, tar and tobacco and ages well.
Pairings: Meats, game
---
VERONA
---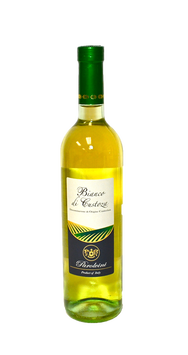 Name: Bianco di Custoza DOC
Producer:
Parolvini
Region:
Verona / Lake Garda
Country:
Italy
Type: White Blend Varietal Trebbiano Toscano (20-45%) – Garganega (20-40%) – Tocai
Friulano (5-30%) – Cortese,Malvasia, Riesling Italico, Pinot Bianco, Chardonnay, Manzoni (da soli o congiuntamente 20-30%).
ABV:
12.50% Vintage
Vinification:
The grapes are vinified 'in White' (without peels), paying particular attention to the cleaning of the must and fermentation temperature never exceeds 64-68°F. The fermentation is carried out with selected yeasts.
Tasting notes:
Yellow straw live color, has a typical fragrance and slightly fruity aroma with hints of mineral background. Its flavor is soft and fruity, slightly bitter.
Pairings:
Perfect pairing with appetizers and fish dishes, hams and bacon, or to sip as an aperitif. Serve chilled at 10-12°C.
---
VENETO
---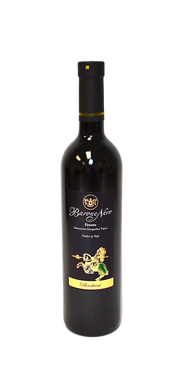 Name: Barone Nero
Producer: Parolvini
Region: Veneto
Country: Italy
Type: Red Blend
Varietal: Cabernet Sauvignon 50%, Refosco 30%, Malbec 20%
ABV: 13%
Vintage: 2011
Vinification: The grapes are picked after full maturation. After a traditional vinification, the macerationsets a few days under a controlled temperature. The wine rests for a period of time between 6 and 12 months.
Tasting notes: The color is ruby red garnet. The fragrance is intense, with a pleasant herbaceous finish. The flavor is full, dry, medium-bodied and intense.
Pairings: Perfect with red meat and game birds as well as salami and mature cheese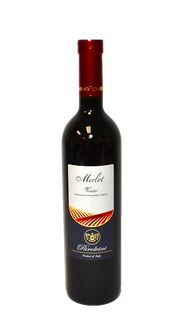 Name:
Merlot Veneto IGT
Producer:
Parolvini
Region:
Veneto
Country:
Italy
Type:
Red
Varietal:
Merlot
ABV:
12% Vintage
Vinification:
The grapes are harvested when fully ripe, running a red vinification with maceration of the skins. Fermentation occurs at controlled temperature with selected yeasts, followed by a racking. Then follows a short period of aging.
Tasting notes:
Wine of ruby red, tending to garnet with aging. Intense and distinctive fragrance, delicate and ethereal if aged. Dry and sweet, fruity and tannic.
Pairings:
Accompanies white meat roast, boiled and pork meat. Serve at 16-18°C.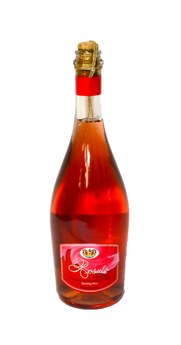 Name: Sparkling Rosato IGT "Rope bound"
Producer: Parolvini
Region: Veneto
Country: Italy
Type: Rose, Sparkling
Varietal: Merlot
ABV: 12%
Vintage:
Vinification: The grapes are medium to late. After harvest, they are pressed so very soft without breaking the skin (with the aim to have little dissolution of color) and slowly fermented with selected yeasts and controlled temperature
(less than 68-72 °F).
Tasting notes: Pink-color of medium intensity. The scent is fresh, young, winey and fruity, with hints of violets and berries. The flavor is fruity, with a little background 'and the predominantly sour sensation of freshness and vivacity.
Pairings: Ideal accompaniment to hors d'oeuvre, soups, fish and white meats. Excellent as an aperitif.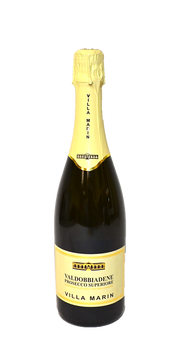 Name: Valdobiane Prossecco Superiore Extra Dry DOC
Producer: Villa Marin/Parolvini
Region: Veneto, Province of Treviso,Valdobbiadene DOCG.
Country: Italy
Type: Prosssecco, Sparkling White
Varietal: Glera
ABV: 11%
Vintage:
Vinification: After the cryomaceration lasting 12-18 hours, the wine becomes bubbly with the addition of select yeast during the secondary fermentation in autoclave that lasts about 120 days at the temperature of 16-18°C.
Tasting notes: Yellow straw with greenish reflections in color. Very fine and persistent perlage. Fruity with a clear perception of apple, peach, pear, with a floral wisteria scent.
Pairings: Excellent with fish and shellfish dishes or at the end of the meal with deserts! Serve at 6-8°C.